Nightscaping design/build/maintain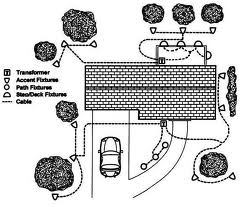 Able Landscapers provides landscape lighting installation and landscape lighting service in Groton MA, Dunstable MA, Tyngsboro MA, Westford MA, Littleton
MA, Ayer, MA, Chelmsford MA, Acton MA, and other surrounding towns in Middlesex County.

We can help you design and install a landscape lighting system to help enhance your security and outdoor living space.

*What are the benefits of an outdoor lighting system?

-Not only will lighting beautify the exterior of your home, it will provide your property with a raised level of security. Properly lit, your home's points of entrance become too risky for thieves to even consider. They would much rather look for a less challenging target than risk being seen trying to enter your home.

-Landscape lighting also helps in increasing safety in walkways and entranceways around your home, allowing you as well as visitors to navigate carefully around potentially hazardous obstacles that may otherwise be unseen.

-Many people spend thousands of dollars remodeling their outdoor living spaces to be able to enjoy them during the day. We will bring those sitting and recreational spaces to life with gorgeous lights to accentuate any area to a peaceful or romantic setting.

-Energy efficiency is probably the biggest reason to choose a low voltage system. Clients who have switched from a line voltage to a low voltage system have reported significant reductions in their electricity bills.

-And finally, a professionally installed, high quality low voltage system can substantially add value to your home by beautifying the premises and have it stand out from other homes in the area.
---